Basic Policy
Investing in Accommodation Assets and utilizing the Mitsui Fudosan Group are the two strategies employed by Nippon Accommodations Fund as its basic policy for asset management.
Investing in Accommodation Assets
Needs for residence and lodging have been diversifying with ongoing changes in the lifestyles of people, their family structures, as well as in their economic and social situations. Amid such change in social structures and needs, NAF defines real estate that is mainly used/may be used for residence or hotels (excluding for-sale residences) as "Accommodation Assets" and invests in two areas of "Rental Apartments" and "Hospitality Facilities."
NAF believes that raising the satisfaction of customers by responding to the diverse needs and desires of residents and users in regard to the space and time of their stay contributes to maximizing the value of Accommodation Assets. NAF aims to secure stable income by managing Accommodation Assets appropriately, encompassing assets from rental apartments where people spend a relatively long time to hotels where people stay for short intervals.
"Hospitality facilities" collectively refers to assets in the four categories of dormitories/corporate housing, serviced apartments, senior residences, and hotels.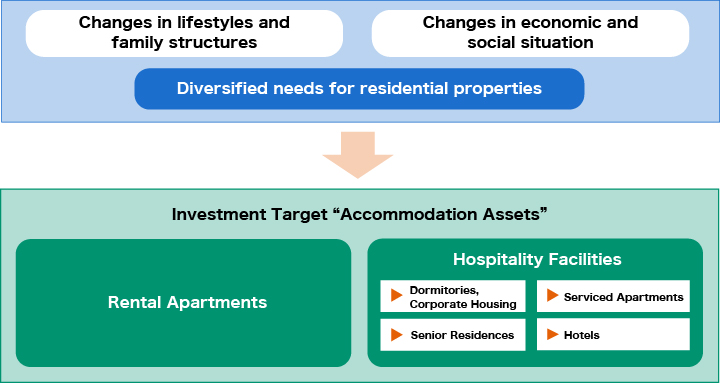 Utilizing the Mitsui Fudosan Group
NAF utilizes to the fullest extent the comprehensive capabilities of the Mitsui Fudosan Group, such as that in information gathering, planning/development, and management/operation, in order to achieve its external and internal growth.
Value Chain of Residential Leasing Business
We believe it is important to carry out businesses under consistent quality control, from planning/development of Accommodation Assets to their management/operation, in order to raise resident/user satisfaction for the space in which they live or stay. To that end, in managing NAF's assets, we will utilize Mitsui Fudosan Co., Ltd. and its subsidiaries, as well as affiliated companies (Mitsui Fudosan Group) possessing such know-how and experience, proactively and to the maximum extent.