NAF utilizes to the full extent comprehensive capabilities of the Mitsui Fudosan Group, such as in information gathering, planning/development and management/operation, in order to achieve its external and internal growth.
a. Value Chain of Residential Leasing Business
The Mitsui Fudosan Group contains group companies that carry out all responsibilities, from market research, site selection and acquisition as well as planning and development to leasing and management and operation, and possesses a comprehensive operating system for rental apartments to complete all such responsibilities within the group. When NAF acquires rental apartments and manages them over the medium to long term, the asset management company will utilize the know-how and support of these Mitsui Fudosan Group companies comprising this value chain.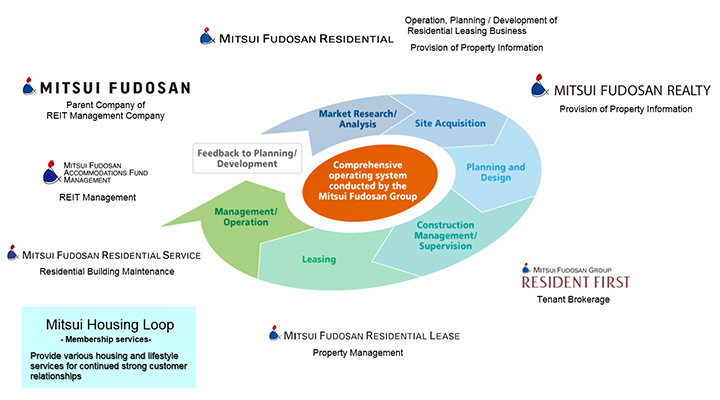 b. Achievements of Accommodations Business
The Mitsui Fudosan Group also has a track record spanning across a wide range of businesses such as hotels, serviced apartments, senior residences and dormitories in the category of Hospitality Facilities and possesses abundant know-how for phases from market survey and site acquisition to planning/development and management/operation.
NAF will, upon investment management of Hospitality Facilities, acquire assets and conduct stable management by utilizing such know-how to the fullest.
c. Support Agreement with Mitsui Fudosan Group
In order to build a portfolio and carry out management and operation utilizing the Mitsui Fudosan Group's value chain and know-how, the asset management company has concluded the following support agreements.
・ With Mitsui Fudosan Residential Co., Ltd.; Advisory Service and Agreement on Provision of Real Estate Information
・ With Mitsui Fudosan Realty Co., Ltd.; Memorandum on Provision of Real Estate Brokerage Information
・ With Mitsui Fudosan Residential Lease Co., Ltd.; Basic Agreement on Property Management