International Initiatives and External Certifications
■ GRESB Real Estate Assessment
GRESB is an annual benchmarking assessment to measure ESG (Environmental, Social and Governance) integration of real estate companies and funds, as well as the name of organization which runs the assessment. It was founded in 2009 by a group of major European pension funds who played leading roles in launching Principles for Responsible Investment (PRI). The GRESB Real Estate Assessment is distinguished by its comprehensive evaluation of sustainability efforts of real estate companies and REITs, etc., and not of individual properties.
NAF has received a "Green Star" rating since it is highly evaluated in both areas "Management Component" and "Performance Component" with regards to activities for environmental consideration and sustainability.
Moreover, NAF has received "Two Stars" in "GRESB Rating" by relative evaluation of total scores.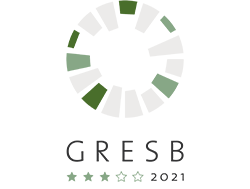 NAF will disclose its ESG information to investors through GRESB Assessment while utilizing the Assessment results as an opportunity to improve its initiatives.
■ Initiatives for Green Building Certification
Green building certifications are granted by third parties regarding initiatives for the reduction of environmental load of buildings, improvement of comfort of users, etc. to assure high performance.
In an aim to increase the credibility and objectivity of its efforts to reduce environmental load as well as increase the value of its buildings in the mid-to-long-term, NAF endeavors to utilize green building certifications from third parties.
■ DBJ Green Building Certification
DBJ Green Building Certification Program was launched by the Development Bank of Japan Inc. ("DBJ") in April 2011 for the purpose of supporting the properties which give proper care to environment and society (Green Building). The program evaluates and certifies properties which are required by society and economy. It makes comprehensive assessment of properties, while evaluating various factors which range from properties' environmental features to their communication with stakeholders, such as disaster prevention and proper care for surrounding communities.
Please click here for details of the DBJ Green Building Certification
Properties with DBJ Green Building certification (As of February 28, 2021)
Name of property
Location
Certification rank
Date of Certification
Okawabata Apartment Communities
Chuo-ku, Tokyo

Properties with exceptionally high
environmental & social awareness
2019.2.28
Park Axis Toyosu
Koto-ku, Tokyo

Properties with the best class
environmental & social awareness
2021.8.25
Park Cube Nishigahara Stage
Kita-ku, Tokyo

Properties with exceptionally high
environmental & social awareness
2021.2.16
Park Cube Meguro Tower
Meguro-ku, Tokyo

Properties with exceptionally high
environmental & social awareness
2020.2.14
Shibaura Island Air Tower
Minato-ku, Tokyo

Properties with the best class
environmental & social awareness
2021.2.15
Total floor space certified     
208,087.52㎡


Percentage of floor space certified 

28.6%