Social Initiatives (S)
■ Basic Philosophy on Social Considerations
As a member of society that interacts with various stakeholders, NAF recognizes that we can conduct our own sustainable business activities by fulfilling our social responsibilities.
NAF will continue to promote ESG management while valuing the trustworthy relationships we have established with our stakeholders and meeting their expectations.
For details, see Stakeholder Engagement.
■ Initiatives for Employees of the Asset Management Company
The Asset Management Company recognizes that human resources are its most valuable assets and has implemented various initiatives for its employees. For more details, please click here.
Furthermore, being a member of the Mitsui Fudosan Group, the Asset Management Company has received highly expertized personnel from the group companies.
■ Initiatives to Improve Tenant Satisfaction
The Asset Management Company strives to improve the security, safety, and comfort of NAF's assets under management and to improve tenant satisfaction.
Investment in High-Quality Rental Apartments
With regard to rental apartments, NAF's primary assets under management, we build our portfolio by placing the Park Axis series planned and developed by the Mitsui Fudosan Group at the core of brand strategy along with the Park Cube series which is similar in quality with the Park Axis series.
In order to enhance recognition and familiarity of the Park Axis and Park Cube series as high-quality residence brands in the rental apartment market, the Asset Management Company develops its brand strategy, including provision of superior quality over the long term to tenants, by collaborating with the Mitsui Fudosan Group.
Mitsui Rental Housing Park Axis Series (RESIDENT FIRST CO., LTD. website) Japanese only
Renovation of Common Areas
In order to maintain the asset value of assets under management over the long term, upgrading and renovations are implemented as necessary.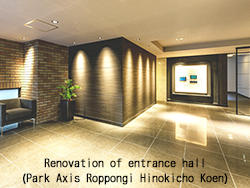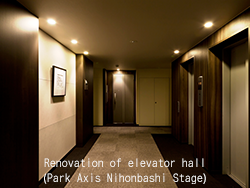 Provision of Security and Safety
NAF entrusts the property management of its assets under management to Mitsui Fudosan Residential Lease Co., Ltd. NAF collaborates with the company in conducting the following initiatives to improve security and safety for tenants.
We have set up an around-the-clock, toll-free number exclusively for tenants for responding to problems regarding building facilities such as water leakage.
Mitsui customer support center C-desk (Mitsui Fudosan Residential Lease Co., Ltd. website) Japanese only
We strive to provide information for security and safety to tenants by distributing disaster-response handbooks to tenants, in addition to opening a website offering information on local governments and disaster prevention to help them prepare for earthquakes and other disasters in advance.
Information for Security and Safety (Mitsui Fudosan Residential Lease Co., Ltd. website) Japanese only
Tenant Satisfaction Surveys
Mitsui Fudosan Residential Lease Co., Ltd, the property management company, conducts periodic tenant satisfaction surveys in the form of questionnaires to improve management operations.
■ Supply Chain Initiatives
Upon selecting/evaluating a supplier, which is important in NAF's asset management, NAF keeps in mind the promotion of sustainability throughout its supply chain by confirming the supplier's initiatives on social consideration/environment, etc. as well.
Furthermore, Mitsui Fudosan Residential Lease Co., Ltd. has a basic policy of prioritizing business continuity and early restoration in light of its social responsibility as a company that continually supplies buildings securely and safely. Such stance was recognized, and the company acquired "Resilience Certification" backed by the Japanese Cabinet Secretariat in August 2016.
News release concerning acquisition of Resilience Certification (Mitsui Fudosan Residential Lease Co., Ltd. website) Japanese only
■ Initiatives for Local Community
As a member of a local community, NAF endeavors to contribute to the vitalization and development of local communities where the assets it manages are located.
Cooperation in Local Events
At the Okawabata Apartment Communities, NAF has proactively cooperated in activities of the management association and strives to contribute to formation of a local community.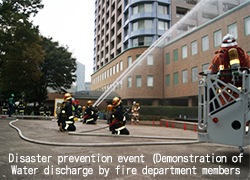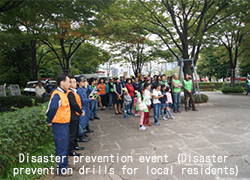 Installation of Share-Bicycle Ports
NAF has cooperated in installing bicycle ports for bicycle-sharing services at some of its assets under management, contributing to reduction of CO2 emissions as well as promoting health in the areas.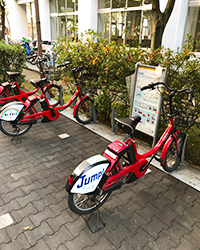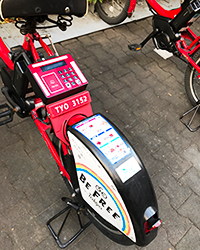 Shibaura Sanbashi Canal Cruise (Shibaura Cruise Program)
At Shibaura Island Air Tower, an asset under management, NAF has cooperated in/co-sponsored the "Canal Renaissance Program for Promoting Waterfront Vitalization" by Bureau of Port and Harbor, Tokyo Metropolitan Government, and contributed to revitalization of local communities, etc.
Shibaura Cruise Program (external website) Japanese only