Environmental Initiatives (E)
■ Basic Philosophy on Environmental Consideration
Mitsui Fudosan Accommodations Fund Management Co., Ltd., the asset management company of NAF, provides its basic philosophy on environmental consideration below as described in its "Sustainability Policy."
Promoting Energy Saving and Reduction of CO2 Emissions
By promoting efficient use of energy in asset management activities and pursuing introduction of energy-saving facilities, etc., the Company endeavors to reduce CO2 emissions through energy saving.
Preserving Water Environment and Promoting Resource Saving and Waste Reduction
The Company aims to preserve the water environment by initiatives for saving water and introduction of water-saving devices. The Company also pursues efforts to promote reduction of harmful substances, resource saving, and waste reduction.
■ Environmental Targets
NAF continually grasps the energy consumption, etc., at common areas of portfolio properties to the extent possible and measures the achievement against the target.
| Indicator (based on intensity) | Target(Target period:2021~2025) |
| --- | --- |
| Energy consumption, energy-oriented CO2 emissions | Average annual reduction of 1% |
| Water consumption | With 2015 as the base year, no increase in amount used |
■ Environmental Performance
Indicator/Unit
2015
2016
2017
2018
2019
2020
Change
(vs FY2015)
Energy consumption
Total (1000 kWh)
10,523
10,399
9,897
9,586
9,373
8,980
-14.66%
Intensity
(1000 kWh/㎡)
51.94
50.99
48.33
46.58
45.22
43.14
-16.94%
Electricity consumption
Total (1000 kWh)
9,800
9,650
9,111
8,841
8,659
8,415
-14.13%
Intensity
(1000 kWh/㎡)
48.38
47.32
44.49
42.96
41.78
40.43
-16.43%
CO2 Emission
Total (t-CO2)
5,038
4,958
4,509
4,183
3,297
2,640
-47.60%
Intensity (t-CO2/㎡)
0.0249
0.0243
0.0220
0.0203
0.0159
0.0127
-49.00%
Water consumption
Total (㎥)
24,273
23,836
23,811
24,056
22,816
19,996
-17.62%
Intensity (㎥/㎡)
0.1198
0.1169
0.1163
0.1169
0.1101
0.0961
-19.83%
| | |
| --- | --- |
| ※ | Results are actual figures for the common areas in "rental apartments" among assets under management. For co-ownership properties, the figures are according to the ownership ratio. |
| ※ | Each of the intensity figures are calculated upon adjustment with the ownership period of each asset. |
| ※ | CO2 emissions figures are calculated by the Asset Management Company using the adjusted emissions coefficient and other for each electric power supplier announced by the Ministry of the Environment. |
■ Independent Practitioner's Review about Environmental Performance
NAF has received assurance by a third party organization (Deloitte Tohmatsu Sustainability Co., Ltd.) in order to enhance the reliability of the disclosed 2020 Environmental Performance data.
Independent Practitioner's Assurance Report
■ Environmental Management System/PDCA Cycle
The Asset Management Company established its own Environment Management System (EMS) and implements a PDCA cycle every year in order to manage the environmental load of its real estate portfolio such as energy consumption, CO2 emissions, water consumption, etc., and achieve its targets.
■ Improvement of Environmental Performance Through Building/Facility Renovations/Retrofits
NAF advances initiatives for its assets under management such as switching to LED lighting and retrofit work for air-conditioning systems, thereby improving the energy-saving capabilities of its portfolio properties.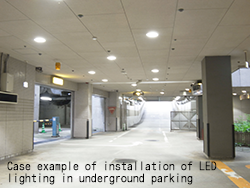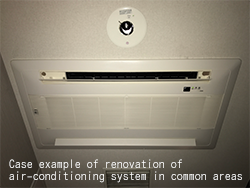 ■ Introduction of Renewable Energy
NAF utilizes renewable energy from solar generation at some of its assets under management.
■ Initiatives for Environmental Consideration in Collaboration with Property Management Company
NAF entrusts the property management of its assets under management to Mitsui Fudosan Residential Lease Co., Ltd., which has proactively worked on environmental consideration, etc. under the Group Environmental Policy set forth by the Mitsui Fudosan Group and promoted initiatives for environmental consideration in collaboration with NAF.
Social Contribution and Environmental Initiatives (Mitsui Fudosan Residential Lease Co., Ltd. website) Japanese only
■ Initiatives for Environmental Consideration in Collaboration with Tenants
Collaborating with Mitsui Fudosan Residential Lease Co., Ltd., the property management company, NAF has raised tenant awareness to save energy by distributing a guidebook to tenants upon their move-in, providing information through its website, and other measures to promote reduction of environmental load in exclusive areas at NAF's portfolio properties.
A Guide to Housing and Daily Living (Mitsui Fudosan Residential Lease Co., Ltd. website) Japanese only
There Go the Specially Assigned Investigators Eco-G-Men! (Mitsui Fudosan Residential Lease Co., Ltd. website) Japanese only
■ Initiatives for Environmental Consideration in Supply Chain
Upon selecting/evaluating a supplier, which is important in NAF's asset management, NAF keeps in mind to promote sustainability throughout its supply chain by confirming the supplier's initiatives on environment/social consideration, etc. as well.